Redmine Hosting Providers
Redmine is a free and open source, web-based project management tool written using the Ruby on Rails framework. It allows users to manage multiple projects and associated subprojects. Redmine features issue tracking, project wikis and forums, time tracking, and flexible, role-based access control.
You need to have some technical capabilities ton install and maintain an open source tool like Redmine. This is why some organizations are providing Redmine hosted solutions. With this choice, they will take care for their customers of all the technical aspects related to the installation and evolution of this open source project management tool.
This article lists companies providing hosted Redmine solutions. Contact us if some providers are missing from this list.
AlphaNodes
AlphaNodes can host and maintain your Redmine infrastructure (updates, security patches, monitoring, backup management). This can be done on your own server or in the cloud, so that you can save costs, provide more data security, relieve the IT department. The service comes with a free usage of AlphaNodes commercial Redmine Plugins (Enterprise+ Bundle) during support period of us. It is possible to integrate with other applications (e.g. GitLab, Rocket.Chat, HedgeDoc).
Website: https://alphanodes.com/redmine-hosting
Easy Redmine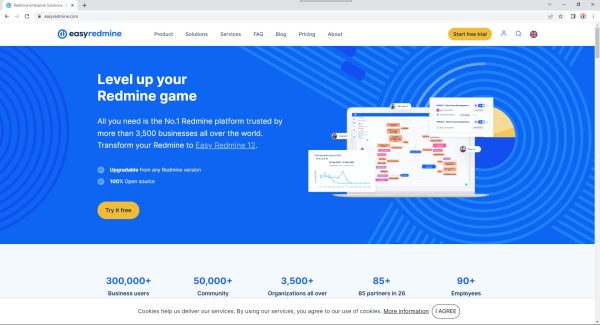 Easy Redmine is a complete and extensible Redmine upgrade which comes with the best plugins, features and a new mobile design. It provides more effective project management, clearer communication, a better user experience and saves you precious time. It is extensible with plugins for Resources, Agile, Finances, CRM, HelpDesk and DevOps.
Website: https://www.easyredmine.com/
Planio
Planio offers Redmine hosting that updates automatically without intervention. Every new release is meticulously tested by our engineers. Planio is member of the official Redmine Security Team. Their engineers are among the first to know about potential vulnerabilities so that the hosted Redmine instances will be among the first to be safe and secure – way before any public disclosures in most cases. The customer remains in full control as Redmine by Planio gives full access to the Admin area and all relevant settings. Redmine by Planio comes with a large range of built-in features and a hand-picked set of plugins that integrate perfectly with Redmine.
Website: https://plan.io/redmine-hosting/
redmine-hosting.de
redmine-hosting.de is a German provider of redmine hosting. This company can also plan and develop Redmine software adjustments and plugins specially tailored to your needs.
Website: https://www.redmine-hosting.de/
redminePRO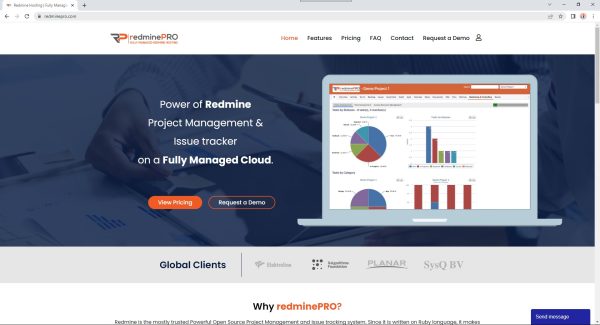 redminePRO offers fully managed Redmine instances on the cloud with more than 12 data centers across the world for the best performance. Slack, Discord, Rocketchat Mattermost Messenger, Gitlab and Bitbucket integrations are possible. A free account is available with limited features.
Website: https://redminepro.com/
RedmineUP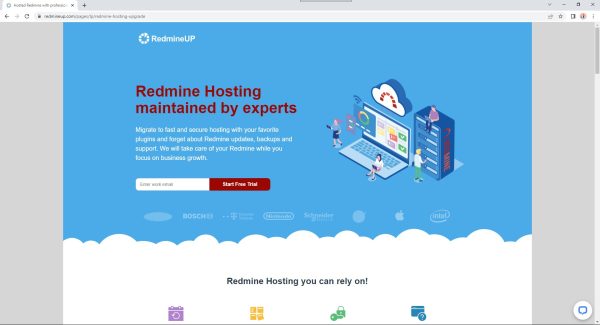 RedmineUP is a provider of Redmine plugins and themes. Its RedmineUP cloud offers Redmine hosted solutions in certified to ISO data centers with two daily backups, data recovery procedure, a 99.7% SLA for enterprises and encrypted data. The account includes all 20 RedmineUP plugins so you can work and collaborate in one platform.
Website: https://www.redmineup.com/